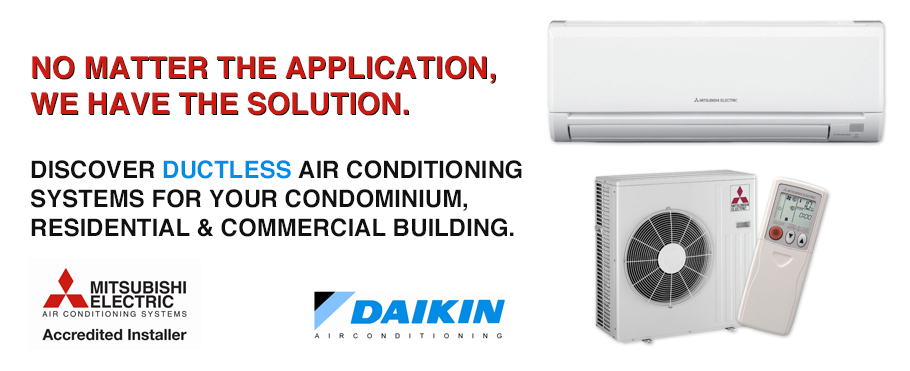 Ductless-Air-Conditioner in Toronto
A ductless ventilation system is a piece of a cooling framework that courses cool air in a building without ventilation work. These frameworks are a reasonable distinct option for focal warming, ventilating, and aerating and cooling frameworks, which require a system of pipes to move air. Ductless ventilation systems are by and large thought to be more effective and less demanding to keep up than window aeration and cooling systems. .
What are the Advantages of Ductless Air Conditioner?
They doesn't occupy so much space:


The sizes of the ductless air conditioners are excellent for small living areas. Aside from that, this is also good for cooling your areas in big houses such as the attics and basements that are typically do not properly ventilated.
They are simple to install:


Unlike with other types of air-conditioners, this is simple to install. For instance, if 2 people will install this, it will just take a week to finish it.
It is very cost-efficient: 


This type of air conditioner utilized a less power compared to the traditional air con. By this you can save money on your energy consumption. On the other hand, if you will go to utilize various components, you may manage the room temperatures within your home that become more resourceful.
It is simple to operate
Usually, it contains remote control that can allow you to simply lower or add the air temperature that comes from your unit. So it becomes easy for you to manage the temperature of the air according to your desire.
They are quit
Unlike to the usual air conditioners, a ductless air conditioner does not provide unnecessary noise that is really irritable. The only noise that this air conditioner produced is just a quiet hum.
However, since not all people have the capability to buy a ductless air conditioner due for some financial reasons, APTech Mechanical Care provide economical installation services to make it availble to your limited budget. Contact us today to get your free estimate. We provide service to entire GTA and surrounding areas such as North York, Barrie, Ajax, Oshawa, Brampton, Etobicoke, Mississauga, Hamilton and Richmond Hill.
This product can surely address your needs with high expertise and ease. This assures you a peace of mind and let you save enormous amount out of your electric consumptions.
Why do you have to use APTech Energy Care?
APTech Energy Care can give you plenty of benefits that can surely suit to your needs and wants. These are as follows:
Economical solution for your limited budget,
High quality and efficient result,
Environment friendly and efficient power usage,
Hire a licensed technicians that provide guaranteed service and expertise.